April 6, 2016 2:03 am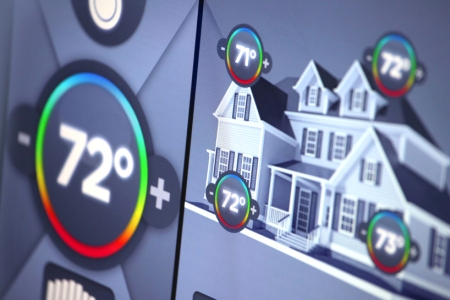 Once in a while, we hear about a logical pairing of home efficiency systems that can't 'bee' ignored. A recent announcement from the manufacturers of the innovative HVAC controller ecobee heralded an exciting new relationship—with Amazon and its Echo device.
The ecobee3 smarter Wi-Fi thermostat with room sensors is the first thermostat to be directly compatible with Amazon Echo, offering homeowners added convenience and comfort in their everyday lives through Amazon's cloud-based voice service, Alexa.
The Toronto-based company says Alexa, the brain behind Amazon Echo, will be able to facilitate requests from across the room. For example, users can say, "Alexa, set my thermostat to 72," or, "Alexa, increase the temperature in my house," to control their ecobee3.
As the one of the top-selling Wi-Fi thermostats in North America, the ecobee3 is the only thermostat that uses sensors to deliver comfort in preferred rooms. And its unique design resolves what its creators say is a basic flaw in traditional thermostat design: only measuring temperature in one location, which contributes to hot and cold spots throughout the home.
The ecobee3 saves homeowners an average of 23 percent on their heating and cooling bills (based on an October 2013 analysis), and is touted to be compatible with 95 percent of residential homes in North America.
Creating further environmental benefit, the ecobee3 does not rely on batteries that must be tossed when they are exhausted. Its innovators say ecobee3 receives power through a C-wire or its Power Extender Kit (PEK).
Charlie Kindel, director of Amazon Echo and Alexa, says using only your voice to control the temperature in your house is another great way to create smarter homes. The ecobee3 is available for $249 on/at Amazon, Apple, Best Buy and Home Depot.
The kit comes with one free wireless room sensor and supports up to 32 sensors. Additional room sensors can be purchased in a package of two for $79 each.
Not an Echo user yet? The ecobee3 is also compatible with Apple HomeKit, Samsung SmartThings and Wink. Visit ecobee.com to catch more buzz about this pairing.
Published with permission from RISMedia.