April 13, 2016 2:21 am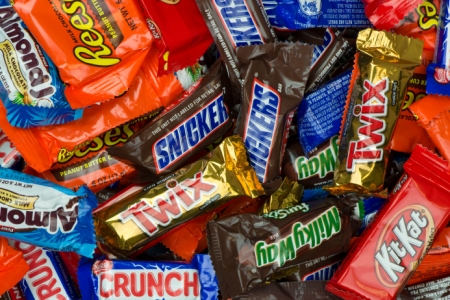 A recently released study published in the medical journal BMJ Open reports a whopping 60 percent of calories in the diets of most Americans comes from "ultra-processed" foods. Ultra-processed foods contain additives like hydrogenated oils, artificial flavors and emulsifiers that account for 90 percent of the added fat and sugar we consume, increasing health risks.
Put simply, if the ingredients of any food include a lot of long words you can barely pronounce, you probably shouldn't be eating it. Among the worst offenders:
Candy Bars
– Most brands you know and love contain high fructose corn syrup and artificial flavors. There are better options out there, such as 70 percent dark chocolate—a good source of magnesium and antioxidants.
Chips
– If you must have them, your best bet is a basic kettle chip with three simple ingredients: potatoes, olive or sunflower oil and salt. Other good-for-you options include organic blue corn chips and popcorn, which are low in calories, high in fiber and packed with antioxidants.
Diet Soda
– Besides the fact that diet soda has zero nutritional value, it contains artificial sweeteners like aspartame, saccharin and sucralose, which have been linked to headaches and an increased risk of type 2 diabetes. If you can't get used to plain water, try sparkling.
Packaged Cakes
– Those plastic-wrapped cakes that seem to last forever in your pantry are packed with sugar and way too many preservatives, which is why they last so long. Bake your own cupcakes from any recipe, substituting pureed fruit, like bananas, for half the sugar.
White Bread
– You may already know you should avoid white bread in favor of fiber-rich whole grain breads, but even some grain varieties can contain additives, so check the labels and choose one with no artificial additives or preservatives. Pro tip: check the frozen section at your grocery store—breads that are frozen generally contain no preservatives.
Published with permission from RISMedia.