May 20, 2016 1:27 am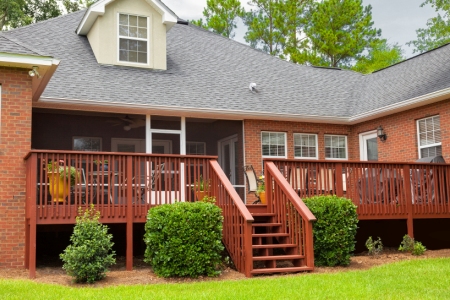 (BPT)—A deck isn't just a bonus for homeowners—it's sought after by homebuyers, too. In fact, at resale, a wood deck addition can recoup up to 75 percent of its cost, according to Remodeling magazine's annual Cost vs. Value Report.
For maximum return-on-investment, maintain your deck's structure with the long-term in mind, recommends the Softwood Lumber Board (www.woodnaturally.com).
To start, inspect your deck each year. Go underneath to make sure beams, boards, connectors, fasteners, joists, posts and railings are all stable, says David Finkenbinder, branch engineer with Simpson Strong-Tie, a structural connecting system manufacturer.
"The ledger connection is where the deck connects to the house," Finkenbinder explains. "It is one of the most common failure points on a poorly built deck. It's very important to use structural screws, rather than nails, to secure your deck ledger board to your home."
Like a house, a deck should support the weight it will need to carry. The deck should be load-tested, with structural connectors and fasteners spanning from the house to the posts in the ground.
Metal connectors, nails and screws can corrode over time due to the elements, weakening the deck's structure. Connectors with a zinc-galvanized coating and hot-dip-galvanized fasteners resist this corrosion. If you live along the coast or near a body of water, consider using stainless steel connectors and fasteners.
A licensed contractor or your local building authority can assess your deck to ensure it is up to code. You may also want to review the "DCA 6: - Prescriptive Residential Deck Construction Guide," a publication by the American Wood Council, at www.awc.org/codes-standards/publications/dca6.
Beyond those measures, the Softwood Lumber Board advises regular maintenance, and a cleaning and/or staining or sealing once a year.
If you have more questions regarding the structure or safety of your deck, consult a professional. He ors he can thoroughly inspect the structure, as well as recommend repairs and estimate costs, if needed.
Published with permission from RISMedia.