June 20, 2016 2:27 am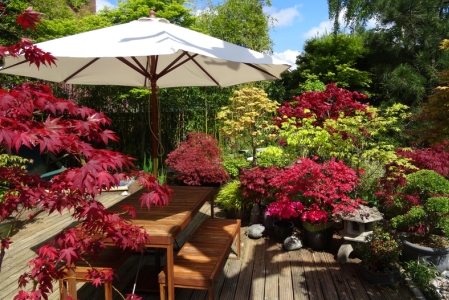 Summer's all about the outdoors—and at a home, that means an outdoor space outfitted for the season.
This summer, three design trends are making a statement: aquamarine, concrete and teak, according to Zillow Digs® recently released Home Trend Forecast.
"Clean, simple and contemporary is the vibe for outdoor living in 2016," says Kerrie Kelly, Zillow Digs home design expert. "Anything high-maintenance, intricate or over-styled will be replaced with materials that can both withstand the elements and transition beautifully between seasons. Natural wood outdoor furniture will take center stage, but will be modernized by concrete or stainless steel accent materials, which will pop up in anything from chair legs to coffee table tops."
Aquamarine—a blue color in the cerulean family—is unexpectedly warm, pairing well with natural wood and slate, Zillow Digs experts say. The shade can be incorporated into an outdoor space through accents like patio umbrellas and all-weather throw pillows.
Concrete, newly introduced with fiberglass and resin, is making a comeback. Whether it's a concrete coffee table or a stamped concrete patio, the material has been re-imagined as a contemporary—and practical—element, say Zillow Digs experts.
Teak furniture, such as Adirondack chairs or a dining set, is as popular as ever, this season updated with stainless steel. Zillow Digs experts suggest installing teak platform seating to take the trend from timeless to today.
Trends on their way out, according to the Zillow Digs Forecast, are floral patterns, high-maintenance lawns and wrought iron furniture.
Source: Zillow
Published with permission from RISMedia.