August 10, 2016 2:00 am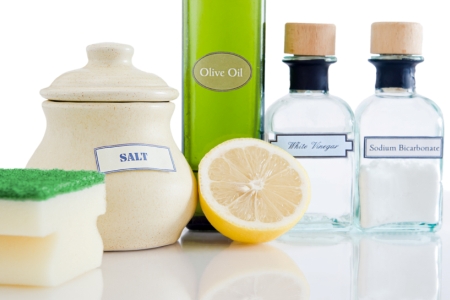 Nobody wants to spend more time than necessary on chores—or spend more on cleaning supplies. Good Housekeeping recently rounded up eight tips to save both:
1. Make One All-Purpose Cleaner
– Combine four tablespoons of baking soda with four cups of warm water in a spray bottle. Use the spray and a rag to make any household surface shine.
2. Spruce Up Wood Furniture
– Scratched wood furniture? Mask the damage by rubbing it with a walnut (shell removed).
3. Brush Away Stains
– Use toothpaste to remove marker stains from wood—a handy solution when kids draw at the dining room table! (Bonus: To clean off wall doodles, sprinkle baking soda on a damp sponge and scrub.)
4. Unclog a Drain for Cheap
– Don't spend on costly drain cleaners. Pour half a cup of baking soda down the drain, followed by half a cup of white vinegar. Cover the drain with a wet cloth, and let the agents work for 30 minutes.
5. Sanitize the Cutting Board
– Rub the cut side of a lemon over a cutting board to remove odors and stains. For extra cleaning power, sprinkle it first with salt or baking soda.
6. De-Grime Patio Furniture
– Wipe down patio furniture with a squirt of dishwashing liquid in bucket of warm water. Hose it down afterwards.
7. Vinegar Those Windows
– It's cheap and effective. Add two tablespoons of vinegar to a gallon of water. Pour some in a spray bottle. Squirt and wipe it away with clean microfiber cloth.
8. Lift Shirt Stains
– Never spend on spot cleaners or stain removers again. Rub dish detergent into the stain and rinse the shirt before tossing it into the washer.
Published with permission from RISMedia.