September 20, 2016 1:48 am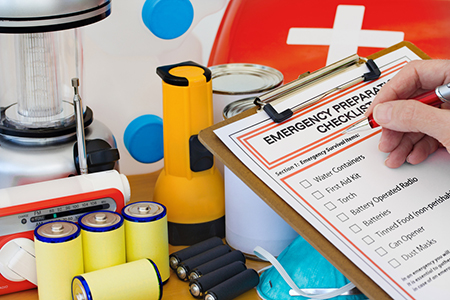 Disasters can happen anytime, anywhere, often with no warning. September, National Preparedness Month, is the ideal time to prepare your household for these types of events.
"Your family's safety is top priority when a disaster happens," says Pete Duncanson of ServiceMaster Restore. "It starts with having plan: Have a 'go bag' ready to quickly grab and go during an evacuation, have a meeting place for your family in the event you're displaced, and have an outside contact for your entire family. Plan for emergency food and medications for the entire family, including pets."
The 'go bag' Duncanson refers to should contain three days' worth of emergency essentials, such as water, non-perishable food, medications and clothing. Other supplies may include flashlights, a radio, your home insurance or utility providers' contact information, or rain gear.
Make it a habit, Duncanson adds, to review your homeowners insurance policy documents (and any other important papers) a few times each year. Consider making electronic copies of them so that they can be easily accessed if they're damaged in a disaster—a secured thumb drive is the best method to store them.
Most important when disaster strikes, Duncanson says, is to put safety first—not your possessions. Evacuate immediately if instructed to do so, even if you must leave behind your belongings.
If your home is habitable after a disaster but requires cleanup, avoid approaching the task by yourself, says Duncanson—a DIY effort can make damage worse, causing unnecessary expenses, and be detrimental to your health. Have a restoration professional assess the damage within 48 hours of the disaster to prevent bacteria or mold growth.
"When a disaster occurs in a home or business, response time is critical," says Duncanson.
Source: ServiceMaster Restore
Published with permission from RISMedia.