October 14, 2016 12:51 am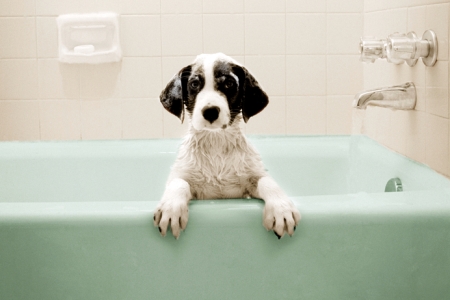 (Family Features)—With an abundance of home improvement shows now on television, DIY has evolved from an intimidating trade for the pros to an easy-to-manage project for even the least handy.
Transforming a home from disaster to delightful through DIY projects is much easier than you think, and can save you a bundle in the process. If the thought of doing your own handiwork has you wiping your brow, think again with these easy improvements:
Stained Tubs
– Grime and grit build-up in the tub is difficult to remove, making an already annoying mess even more of a headache. Depending on the type of material your tub is made of, you can opt for an abrasive powder, baking soda, or even a pumice stone to rub out those nasty spots.
Wall Dents and Holes
– Wrestling matches among the kids, rambunctious pets and moving furniture all take a toll on your walls. Dings and scratches are easy to fix with a little spackle and paint, but with the right resources, so are bigger blemishes—even outright holes.
When you use a repair kit, there's no need to hire a pro or buy a bunch of tools. Such kits, for holes up to five inches in diameter, include everything you need to fix anything from a can-light hole in the ceiling to a door knob hole in the wall—no experience required.
Dripping Faucets
– Plumbing can be especially intimidating, but one of the most common plumbing annoyances—a dripping faucet—can be fixed in a few minutes with just a few dollars.
Usually, the cause of a drippy faucet is a washer or O-ring that has gone bad—you can simply replace those parts. Turn off the water, then use a screwdriver or hex wrench to loosen and remove the faucet fitting. You should be able to easily see the washer and ring fittings. Just replace the old with the new and reassemble. (Note: If the drip is coming from a faucet with separate handles for hot and cold, you'll want to isolate which handle is the culprit before you get started.)
Source: Family Features Editorial Syndicate
Published with permission from RISMedia.